About Dr. Hissong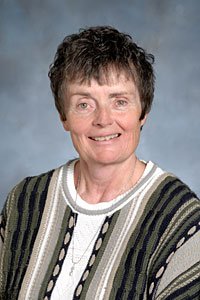 I was born and raised in Detroit, the youngest of seven children. I attended Notre Dame College in Cleveland, Ohio, and Loyola University Stritch School of Medicine in Mayfield, Illinois. (Learn more about my credentials here.)
I first thought of becoming a doctor when I entered high school and was inspired by many people to think about how I could best serve others. One of my older brothers had TB of the spine and spent a year and a half in bed in a full body cast. Then, another brother was injured in an auto accident and was unconscious for 10 weeks. He suffered from chronic brain syndrome (severe memory problems were his prominent symptoms) for the rest of his life. These experiences encouraged me to consider medicine.
I was drawn into Family Practice because of the opportunity to interact with people and families.  I have now been practicing medicine at Cherry Hill for more than 35 years.  The most rewarding thing about my practice is getting to know so many wonderful patients!  I am continuously moved by people's strength and their amazing ability to accept problems, work to solve them, or sometimes purely to accept what cannot be overcome.  I most enjoy being invited into other people's lives and the trust that is placed in me to work with them; being a part of their lives through good times and also through challenging situations.
My staff is a great part of my ability to give service to you, my patients.  I am grateful to them for their sense of service and the joy they bring to patients and to our workplace.
In my free time, I enjoy traveling, playing pickleball, and skiing with my husband, Ray, of 47 years and am a big fan of the Tigers, Lions, & Pistons. (Sorry, Red Wings.)  We have three grown children and three grandchildren…all of whom are a great delight!
As you can see, my granddaughter, is a budding young physician!
(Her diagnosis…  "It sounds like birdies in there!")
Hospital Affiliation
Dr. Hissong is an active staff member of the medical staff of Beaumont Dearborn (formerly Oakwood Hospital  Dearborn).  If you require hospitalization while under her care, you will be admitted to Beaumont Dearborn.  The hospital is located at 18181 Oakwood Blvd. approximately 1/4 mile north/west of the Southfield freeway.  For more information, you may call the hospital at (313) 593-7000 or visit their web site at www.oakwood.org.
Credentials
~BOARD CERTIFIED, FAMILY PRACTICE (1971-PRESENT)
~CERTIFIED IN ALCOHOLISM AND OTHER DRUG DEPENDENCIES BY THE AMERICAN SOCIETY OF
ADDICTION MEDICINE (1988-PRESENT)
~OAKWOOD HOSPITAL, DEARBORN , GENERAL PRACTICE RESIDENCY
~UNIVERSITY HOSPITAL-SUNY HEALTH SCIENCE CENTER , SYRACUSE, NY, FAMILY
PRACTICE RESIDENCY
~GRACE HOSPITAL, DETROIT, INTERNSHIP
~GRADUATE OF LOYOLA UNIVERSITY OF CHICAGO, STRITCH SCHOOL OF MEDICINE, MAYWOOD, IL
Professional Achievements
~2008 PRESS GANEY RECIPIENT – Top performing physician for achieving a personal rank in the in the top 10th percentile by her patients
~CHIEF OF THE DEPARTMENT OF FAMILY PRACTICE (1998-2004)
~CLINICAL ASSISTANT PROFESSOR (1976-2019),  WAYNE STATE UNIVERSITY
~CHIEF OF STAFF (1996-97), OAKWOOD HOSPITAL DOWNRIVER CENTER
~PAST PRESIDENT, MICHIGAN ACADEMY OF FAMILY PHYSICIANS
Professional Philosophy
"My family practice provides care for patients of teenage to 107, with special interests in chronic diseases such as diabetes, hypertension, hyperlipidemias, arthritis, Lupus, fibromyalgia, and alcoholism.  Acute care is also a large part of my practice.  I especially enjoy treating adolescents, and the elderly, and dealing with individuals, interpersonal relationships, and family dynamics."
-Dr. Hissong